Caribou Springs LLC provides comprehensive economically feasible solutions to planning, permitting, implementation and monitoring of stream restoration and enhancement, aquatic passage, stream crossings, bank stabilization, riparian buffer restoration and enhancement projects. We assist private, non profit, federal, state, local government entities in all their need from start to finish and beyond. Our reputation with permitting regulators is excellent due to our past performance and our drive to use sensible solutions to complex situations.



Forestry - Wildlife - Fisheries Watershed - Erosion - Hydrology
Contractor of the Year 2012 - Cumberland County Soil & Water Conservation Commission for instream restoration & enhancement.
Caribou Springs LLC's services include design, permitting, implementation and monitoring of: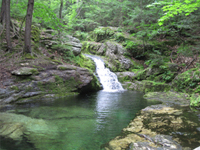 Stream Restoration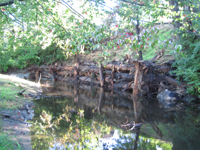 Bank Stabilization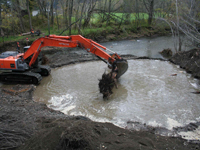 Aquatic Habitat Restoration and Enhancement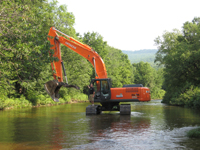 Aquatic Passage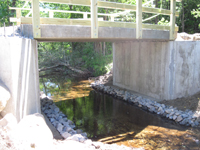 Stream Crossings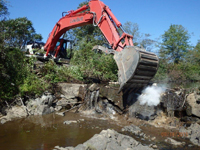 Dam Removal and Mitigations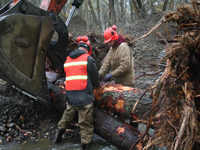 Course Woody Material Loading Enhancements
View our photo gallery for photos of selected projects
Androscoggin River Watershed
Bear River
Sunday River
Branch Brook
Chase Hill Stream
Bemis Stream
Four Ponds Brook
Barker Brook
Taylor Brook
Kennebago River
Lamprey River Watershed
Follets Brook
Wiswall Brook
Salmon Fall River Watershed
Sligo Brook
Isinglass River
Kennebec River Watershed
Enchanted Stream
Cold Stream
Mill Brook
Intervale Brook
Presumpscot River Watershed
Crooked River
Swett Brook
Ditch Brook
Pleasant River
Saco River Watershed
Cooks Brook
Machias River Watershed
Creamer Brook
Allagash River Watershed
Mute Brook
Connecticut River Watershed
Mohawk River
Royal River Watershed
Chandler Brook
Merrimack River Watershed
Souhegan River
Kennebunk River Watershed
Goff Mill Brook
Fore River Watershed
Long Creek
We had the privilege to have Gerald "Jay" Milot, owner of Caribou Springs LLC, do an extensive habitat restoration project on our property. We had a banking with a 134 foot drop off into a brook, collapse, endangering our pool and possibly our home in the future. Jay had the experience and the connections to prepare a comprehensive plan of attack to stabilize the banking and keep it from migrating towards our home. The plan called for cutting some standing trees to relieve stress on the banking and to lay those trees down in a crisscross manner. Many 30' delimbed trees were driven into the ground like candle sticks and trees with limbs were placed in and around the "candle stick" trees. Finally large boulders were placed on top of the trees directly along the edge of the banking, to catch any further collapses.

Jay and his crew were prepared, with all the material being delivered prior to the restoration day. They were professional, on time and completed their work early. They repaired the part of the lawn that was damaged by the excavator with new loam, seed and hay. They even swept the driveway. They were under some time constraints from the State regarding work along waterways, so this job was done in a matter of a little more than 2 weeks from review of the site to the finished job.

Needless to say, we were thrilled with the job and relieved that were would not have to move our little pool or our house for that matter.

Truly yours, Duane and Sari Varney, Windham, Maine

We would like to convey our sincere thanks for your help in replacing the failing wall at the river's edge at our Kennebago River camp. It made an enormous difference to have you act as our agent and provide the interface with LURC, since you know them and could smooth the road much more effectively than we, especially since they seem to be always suspicious of a camp owner's motives. The concept of using root balls to provide an in-depth defense along our river bend was novel, but was embraced fully by IF&W, and even LURC was willing to go along, despite their preference for riprap, which neigher IF&W nor ourselves were happy with. We welcome the compromise. The work was done quickly and well, and although it made a mess of our yard, it is now recovering nicely with only some reseeding being likely required in the spring. The structure stood up well to its first test, 9 knches of rain in a single week in September, and the resulting high water, and we believe it will do as well with the ice out in 2012. Nancy had some concerns about the amount of cutting that had to be done to access the site, but now says she really likes the additional openness leading from the driveway, and having additional space around the canoe rack is certainly a help. We will keep that area in grass, but not cut as a lawn. The pool itself has recovered nicely, and is back being the favored pool on the upper river by the late season fishermen, which was our main goal in this exercise.

Thanks again, Ralph and Nancy Aldrich

In 2009, I contracted with Jay Milot of Caribou Springs, LLC, to conduct a riverbank restoration/erosion control project at my property along the Sunday River in Bethel, Maine. The firm handled all aspects of the project including the design, permit and construction phases. The project was completed on time, and for the exact budget of the contracted amount. In addition, Mr. Milot has continued to periodically monitor the riverbank to ensure the effectiveness of the restoration. Since being completed in August of 2009, the river has experienced several high water events, and the erosion control methods in place have worked as intended, further improving the integrity of the riverbank. It is without any reservation that I highly recommend Caribou Springs, LLC, for any project that you may be considering.

Speros Venios - Peabody, MA

I am pleased to recommend Jay Milot of Gilead, Maine and his company, Caribou Springs, LLC, for any projects requiring creative solutions to problems involving stream bank stabilization, erosion control and/or fish habitat restoration and improvement. As Chairman of the Town of Newry, Maine, Board of Selectmen I oversaw several river restoration and brook trout habitat improvement projects for which Caribou Springs was the primary contractor. In every case Jay and his employees took the greatest care to insure that the work was performed in a professional manner. When the projects involved entering the stream with heavy equipment, Jay directed all operations with the utmost care to avoid stream siltation or damage to existing stable banks. Since Newry was the first town in Maine to use some of the techniques pioneered by Caribou, we received many visits from regulatory agencies and representatives of other area towns both during and after completion of the operations. In all cases the visitors were extremely pleased with the work they observed and impressed with the innovative solutions that were used. My inspections of the completed work sites revealed healthy growth of planted vegetation, stable slopes, repositioned stream flows, and enhanced fish habitat. I invite anyone considering such work to tour the Newry sites and observe first hand the excellent results produced.

Steve Wight - Newry, Maine

Jay Milot was the Caribou Springs, LLC, contractor who performed stream bank stabilization services for my house property ... in Auburn, Maine. Jay was the preferred contractor of the engineer, John Field, who developed the plan for the project. The location of the project involved a high bank on the outside of a tight bend on Taylor Brook. The area is rather congested, and the cooperation of several neighbors as well as various federal and local permits had to be obtained. Jay worked tirelessly to plan the work and to enlist the necessary support. He made multiple trips to Auburn from his home base of Gilead to review the site and to talk with me and with my neighbors. He made numerous phone calls and sent countless e-mails on my behalf. He kept me informed at every step, did what he said he would do, and provided a high-quality solution to my problem, all the while consistently displaying both a sensitivity to the environment and to the limitations of my funds. I have worked with many contractors over many years, but I do not believe I have ever worked with anyone who showed as much expertise, professionalism, and humanity in going about his work as Jay Milot has shown. I would recommend him without reservation for any project requiring similar services.

Sandra C. Rich - Auburn, Maine
River Management Society
American Fisheries Society
American Wildlife Society
Lifetime Member Trout Unlimited
Maine Rivers
Moosehead Fisheries Coalition
Upper Andro Anglers Alliance
Androscoggin Watershed Council
Wildland Firefighter Foundation
Society for Ecological Restoration
ME DEP License #0495 in erosion and sediment control
Photos and videos of select projects by Caribou Springs
Caribou Spring LLC Watershed Solutions has implemented over 20 miles of stream restoration, aquatic habitat enhancement and bank stabilization projects throughout Maine and New Hampshire. We have put together the ultimate team of consultants and sub contractors to guarantee the success of any riparian related project. The team has worked together for 20 years and has overcome significant planning and implementation hurdles. We have also paved the way for future projects to be permitted more quickly and implemented more cost effectively while producing the best on the ground results.